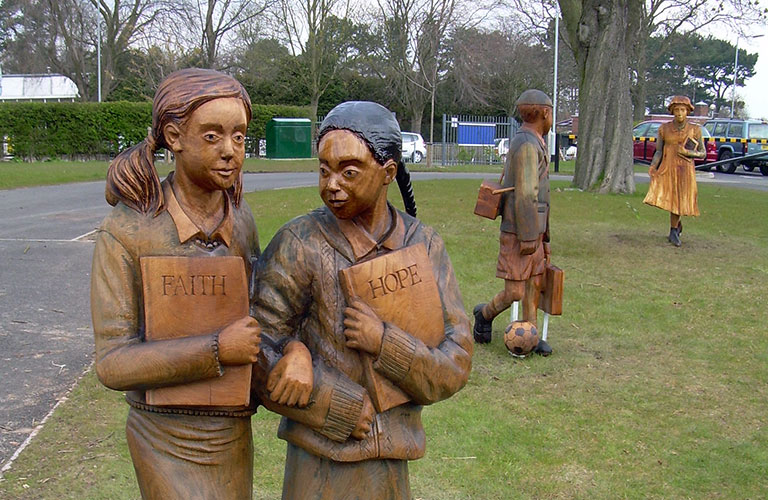 Wood Carving Gallery
90% of my work is wood carving, mostly with a chainsaw. Take a look at a gallery of some of my wood sculpture work.
Non-wood Artwork
Although my main passion is for working with wood, I also love creating art from a range of other materials including metal and stone. Take a look at the non-wood artwork gallery.
For Sale
Most of my work is for commission, but I do have a small range of pieces for sale. Take a look.
Wood Art Works
WAW is an art based company based in Newport, Wales. Our product is highly diverse, including chainsaw sculpture, wood carving, living willow sculpture, bodging and green wood working, bespoke furniture, steel sculpture & fabrication, silver smiting, prototype design and manufacture, giant carnival puppets, junk sculpture, kids and adult art and craft workshops, murals, mosaic, and much more.
View my Wood Carving gallery | View my Other Art Work
We like to make things that are beautiful, functional and right for the space/event etc. So if you're looking for a bespoke piece, contact us.
Wood Carving
I enjoy working in a range of materials, but wood carving is what I really excel at. My chainsaw sculpture work has taken me all over the uk and beyond, and I often appear at wood carving events, wielding my chainsaws live to create a sculpture over a day or two.
"Just wanted to say a big huge thank you for all your hard work, I've just seen the dolphin and it looks absolutely stunning! Everybody is so pleased."
Christie Lennox, Cardiff University